Spring 2022 Concerts
Life's A Roller Coaster: Grab a Friend and Hop On!
Spring Concerts are Coming Up in May!!
Life may be Willy-Nilly, Catty Wumpus, Topsy Turvy and just plain old unpredictable, but Mountain Melody Women's Chorus will help you forget your troubles and get happy with a fun-filled Spring 2022 Concert Series!
Life may well be a roller coaster, but grab a friend and hop on!
We start off at the unconventional venue of Hein & Company Used and Rare Books in Jackson on Saturday May 7th at 2 pm.
The following weekend we are at the Town Hall in Moke Hill on Saturday May 14th at 2pm and Sunday in Angels Camp at the Union Congregational Church at 2pm.
Please come and listen to some delightful music performed by the ladies of Mountain Melody that will definitely lift your spirits and soothe your soul!
All concerts ask a suggested donation of $10.
Thank you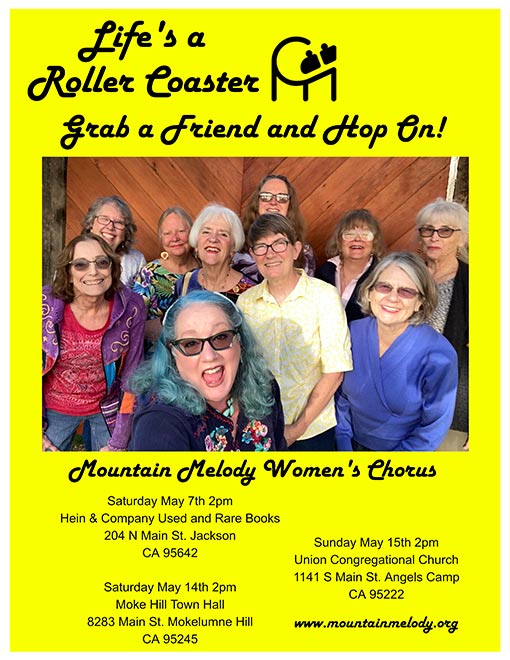 Sign Up for Our Mailing List