Winter 2015 Concerts
Mountain Melody Women's Chorus Presents Our Winter Concert Series: "Winter Phoenix Rising–Up From The Ashes of the Butte Fire"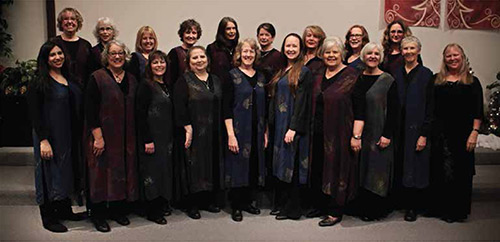 Winter Phoenix Rising Tee Shirt Available Until November 17
Please click here to buy a Winter Phoenix Rising tee shirt from Mountain Melody.
Hurry this offer ends on November 17!
The following is our holiday concert schedule:
We are sure you will enjoy the program, because it is with great joy that we create and share our music with you.
For more information, please see our Blog page.
Friday, October 30 at 7 pm
Butte Fire plus Direct Aid Presents
Bill Welles & Friends, Swing Gitane & the Mountain Melody Women's Chorus
Mountain Ranch Community Club
8049 Washington Street, Mountain Ranch, CA 95246
209-754-4482
Benefiting Richard & Gayle Schieffer
Saturday, November 14 at 8 pm
St. James Episcopal Church (Red Church)
42 Snell Street, Sonora, CA 95370
209-532-7644
This concert is put on by the Sonora Chamber of Commerce and will be a benefit for our four members who lost homes in the Butte Fire.
Donation is $10.00 at the door
Saturday December 5 at 4pm
Community Covenant Church
261 Treat Ave, San Andreas, CA 95249
(209) 754-3881
A benefit for Mountain Melody, suggested donation $10.00
Sunday December 6 at 2:30pm
Ayrael Vieux Vineyards
1690 Monge Ranch Rd, Douglas Flat, CA 95229
(510) 418-6197
Taste Estate Grown wines and listen to the holiday program by Mountain Melody.
A portion of wine sales will go to benefit the choir.
Saturday December 12 at 3:00pm
Union Congregational Church
1141 S Main St, Angels Camp, CA 95222
(209) 736-4171
Free performance, donations to the choir gladly accepted.
Sunday December 13 at 4:30pm
Outer Aisle
164 CA-4, Murphys, CA 95247
(209) 728-1164
Free performance, donations to the choir gladly accepted.
Food and beverages available for purchase.
Ovations
Sunday January 10, 2016 at 3pm
Calaveras County Art Council Presents
Ovations 2016 Concert Series
Dr. Elliot A. Smart Performance Arts Center, Bret Harte High School Theater
323 South Main Street, Angels Camp 95222
Individual tickets $25 Adult, $10 Youth (under 18) on sale December 1, 2015
Sac Sings!
Saturday April 23, 2016, at 7:30 pm
Sac Sings! The Sacramento Choral Festival
Sacramento City College Performing Arts Center
3835 Freeport Boulevard, Sacramento 95822
Please visit sacsings.org for more information. (Click on Saturday, 7:30 pm)