Spring 2020 Concerts
Spring 2020 Concerts Cancelled on April 5, 2020
Spring 2020 Concert Series Cancelled
Hello to All:
It is most certainly with a heavy heart that I am cancelling all our spring concerts at this time. It is not like I wasn't seeing the writing on the wall, it was, as our theme says, that my hope was springing forward that the figurative wind would somehow blow in another direction.
Our safety and that of our guests is our highest priority.
So, as we approach the pandemic peak, we will continue to socially distance, shelter in our homes, wash hands, etc. And STAY POSITIVE!! Easier said than done, at this time.
I anticipate casual gigs down the line, so keep music in your hearts and minds. It will be so very uplifting for us and our fans in the warmth of summer and fall.
Music, as we all know, is such a comfort, and joy (hmmm, what a neat thought for a Christmas carol verse!) it connects us and uplifts us.

So, keep singing, and listening, and be kind to each other as we all make our way through this challenging time.
Stay warm and healthy.
Love, Julia Shelby
Artistic Director
---
Kevin Brady: Artist Statement
Arriving in Calaveras County in '92, Kevin brought with him a multi-faceted artist's "bag of tricks" which includes cartoonist, Asian water colorist, humorous illustrator and graphic designer.
With his finely honed graphic skills, he has designed wine and beer labels, banners, photo backdrops, flags, logos and many t-shirts for a myriad of councils, commissions, agencies, departments, companies and private parties.
Under the moniker "Mosquito Gulch Studio" Kevin continues to develop his varied artistic interests and keeps his paintbrushes and pencils ready to tackle the next project!
Contact information:
Kevin Brady
Mosquito Gulch Studio
209-419-1126
kevinbrady06@comcast.net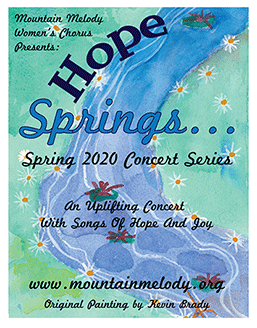 Sign Up for Our Mailing List