Winter 2018 Concerts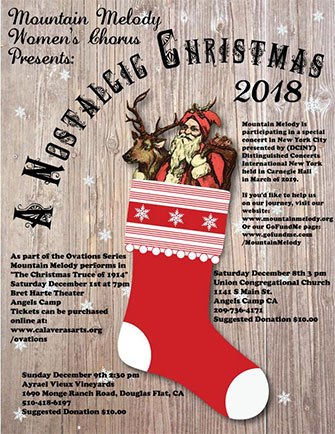 Mountain Melody Women's Chorus is known around Calaveras County known for their beautiful harmonies and lush, blended tones.
Next year in 2019, the Choir will be performing as part of a large international choir on stage at Carnegie Hall in New York City!! The Chorus is extremely proud and excited to be asked to perform at this event and to represent Calaveras County.
So please join us at one of our Christmas concerts on December 8 and 9, or look for us at one of the other events listed below.
Please help support us in our journey to NYC and the stage at Carnegie Hall!
Mountain Ranch Community Club Hosts 33rd Annual
"Christmas in the Country" Craft Faire, Bake Sale & Luncheon
Calaveras County Art Council Presents:
Ovations 2018 Performing Arts Series
Another exciting development for Mountain Melody is our participation in the Ovations series as a part of their play "The Christmas Truce of 1914" by Alan Shepard. Kathy Mazzaferro directs this surprising and sensitive story, with actors from Once Upon a Time Productions.
Mountain Melody will be part of the show, and we will be performing well known songs from the World War 1 era such as, "Keep the Home Fires Burning," "Still, Still, Still," and "O Tannenbaum" (O Christmas Tree.)
12/1 Saturday Gala Performance


5:30-6:30 pm — Pre-show champagne reception at Bank of Stockton
7 pm — Performance with elegant savories and desserts served at intermission
Bret Harte Performing Arts Center
Angels Camp, CA
Click here to purchase tickets online..
A Nostalgic Christmas
Mountain Melody Women's Chorus is once again bringing you a delightful program of Holiday Songs entitled, "A Nostalgic Christmas."
This special program will bring back cherished holiday memories with songs like "Have Yourself A Merry Little Christmas," "The Christmas Song," and "I'll Be Home For Christmas."
The dates to put on your calendar are:
We will have fundraising at each of these performances.
Place an Ad in MM's Winter 2018 Program
You can also donate to have an ad in our program–
Call Tari Takara 209-754-9180 for more information.
Mountain Melody Women's Chorus is invited to sing
in NYC at Carnegie Hall in March of 2019!!
Yet another extraordinary Mountain Melody event is our participation in a special concert in New York City presented by Distinguished Concerts International New York (DCINY) and held in the legendary Carnegie Hall in March of 2019.
Mountain Melody is so excited to be participating, and if you'd like to help us on our journey, please go to our GoFundMe page.