Current Concerts
Spring 2020 Concert Series
"Hope Springs…": An Uplifting Concert with Songs of Hope and Joy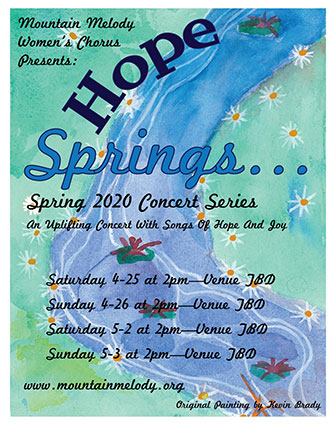 Like the sun reappearing at dawn after a long, bleak winter, Spring breaks through with her message of hope and warmth.
The Mountain Melody Women's Chorus once again heralds the season with their Spring Concert Series entitled "Hope Springs…"
The songs for this session are uplifting and inspiring.
Songs that express hope and gratitude such as "I Thank You God" with music set to a beautiful poem by e.e. cummings, and "Wonderful World," made a classic by such diverse artists as Ella Fitzgerald, Louis Armstrong, and the Hawaiian ukulele master, Israel Kamakawio'ole, known simply as "IZ."
"Everybody Says Don't" is a catchy Sondheim number with clever words that outline the benefits of bucking the system and trying to overcome obstacles with miracles.
"They All Laughed" by the Gershwin Brothers is another catchy, upbeat tune extolling the virtues of following your heart and going for that special romance—regardless of what the busy "laughers" have to say!
There is even a special mini tribute to the late great Aretha Franklin with two of her chart-topping classics, "Think" and "Respect."
Two atmospheric tunes, "Storm" and "Lightning" evoke a special mood of excitement and unpredictability created by the changeable Spring weather.
Sentimental feelings, beauty, and harmony come alive in the classic song "Over the Rainbow." It's a lovely version, and if you listen closely, close your eyes, and use your imagination, you may be able to see the twinkling lights of that Emerald City, Oz!
As always, we are looking forward to sharing our music with you at one of our concerts. Listed here are the dates projected, with the understanding they may be changing as Calaveras County deals with the Corona virus outbreak. We have performance venues set up, but we will need to confirm as the time draws near, depending on medical guidelines.

For the latest updates you may contact Julia Shelby (209) 419-0028 or by email: juliashelby27@gmail.com our Facebook page or on our website.