Current Concerts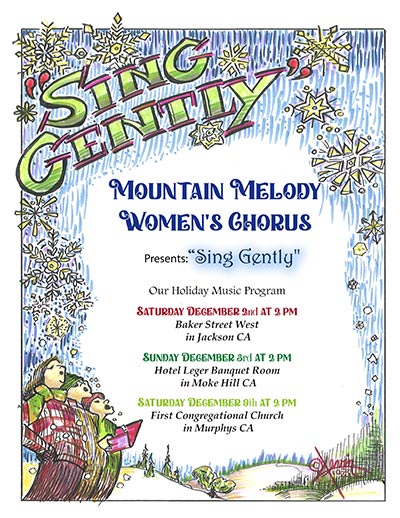 Sing Gently is also the title of our Holiday Concert for 2023!
Please join us at one of our concerts and you can hear the beautiful song by Eric Whitacre.
All concerts ask a suggested donation of $10.
Mountain Melody Presents: "Sing Gently"
Mountain Melody is bringing lovely holiday music to the Sierra Foothills.
"Sing Gently" is the name of our program inspired by the beautiful Eric Whitacre song. He created the song during the Covid 19 pandemic as a way to connect people through voice and community.
The choir, made up of local women from Calaveras and Amador counties, is absolutely thrilled to bring this music to our friends and families as a special treat for the holidays.
We love to sing for you and look forward to seeing you at one of our performances!!
Mountain Melody offers a collection of soothing and inspiring music. Some songs are new and some are very familiar, and all will put our minds and hearts in a festive holiday mood.
Design concept: Tari Takara | Graphic design: Rupal Patel | Artwork: Kevin Brady | Mosquito Gulch Studio | 209-419-1126 | kevinbrady06@comcast.net ↩︎