Spring 2018 Concerts
Friends and Music and Spring–Oh My!!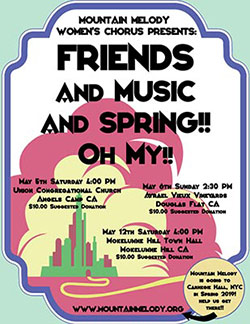 Mountain Melody once again presents a musical celebration of the vernal equinox entitled "Friends and Music and Spring–Oh My!!"
Their musical selections are sure to cleanse your winter burdened palates and bring lightness and joy to your life!
The songs include "Jitterbug" from Wizard of Oz, "It Don't Mean A Thing (If It Ain't Got That Swing)" from Duke Ellington, "The Rhythm of Life" from the musical "Sweet Charity" and many other fabulous tunes.
Mountain Melody Women's Chorus is known around Calaveras County for their beautiful harmonies and lush, blended tones.
Next year in 2019, the Choir will be performing as part of a large international choir on stage at Carnegie Hall in New York City!!
The Chorus is extremely proud and excited to be asked to perform at this event and to represent Calaveras County.
So please join us at one of our concerts, and help support us in our journey to NYC and the stage at Carnegie Hall!