Winter 2021 Concerts
Mountain Melody is "Together Again"
After a long year-plus of Covid-19 restrictions and lockdown, Mountain Melody is once again performing our Holiday program in some of our favorite Mother lode Venues!!
Spring 2021
We were able to put on a very short, informal program for Spring in Moke Hill Park and also at an outdoor market in Mountain Ranch, and we are very grateful for all of you who came out to listen to our songs!!
Winter 2021: Classic Christmas Songs & Carols
We love performing and we missed our community a lot!! We sincerely thank those of you who have made it a yearly tradition to see our concerts!!
Our program will consist of a delightful mix of Classic Christmas Songs and Carols, as well as Jazzy arrangements of familiar Holiday tunes, lovely winter themed compositions, and a beautiful song from the movie "Polar Express."
We ask again for a modest donation of $10 per person (of course, if this is a burden, please come regardless because we love you!)
These donations allow us to rent performance and practice space, and buy new music each session.
Again we thank all of our fans and supporters and look forward to seeing your beautiful faces at the following venues:
$10 Suggested Donation
Thank you.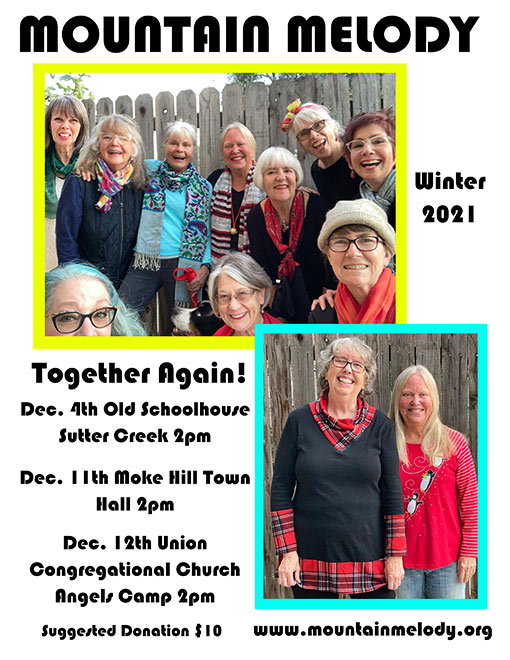 Sign Up for Our Mailing List