Spring 2023
"Be Kind—Rewind!
Mountain Melody Favorites Old and New"
This Spring, Mountain Melody takes a trip down memory lane with a wonderful program of favorite tunes from years past.
The small but mighty chorus is made up of members from Calaveras County and Amador County.
Though you may remember some of our tunes from previous concerts, everything old is new again with this particular group of singers.
The program will showcase beloved standards such as "You Make Me Feel So Young" and "I Got Rhythm" as well as offerings from Broadway like "For Good" and "Highlights From Chicago."
The "special sauce" that makes Mountain Melody stand out is their signature "blend."
This means that all of the singers blend their voices so that they sound like one voice singing each of the parts in the arrangement.
The whole family will be delighted to listen to this wonderful local group of women, so be sure to take a couple of hours out of the Spring hustle bustle and join us at one of our performances:
Spring 2023 Mountain Melody Concerts:
Refreshments will be served at all performances.
For all of our concerts we ask for a $10 suggested donation.
This helps us with the cost of rehearsal space, sheet music purchases, website maintenance and etc.
Kevin Brady: Artist Statement
Arriving in Calaveras County in '92, Kevin brought with him a multi-faceted artist's "bag of tricks" which includes cartoonist, Asian water colorist, humorous illustrator and graphic designer.
With his finely honed graphic skills, he has designed wine and beer labels, banners, photo backdrops, flags, logos and many t-shirts for a myriad of councils, commissions, agencies, departments, companies and private parties.
Under the moniker "Mosquito Gulch Studio" Kevin continues to develop his varied artistic interests and keeps his paintbrushes and pencils ready to tackle the next project!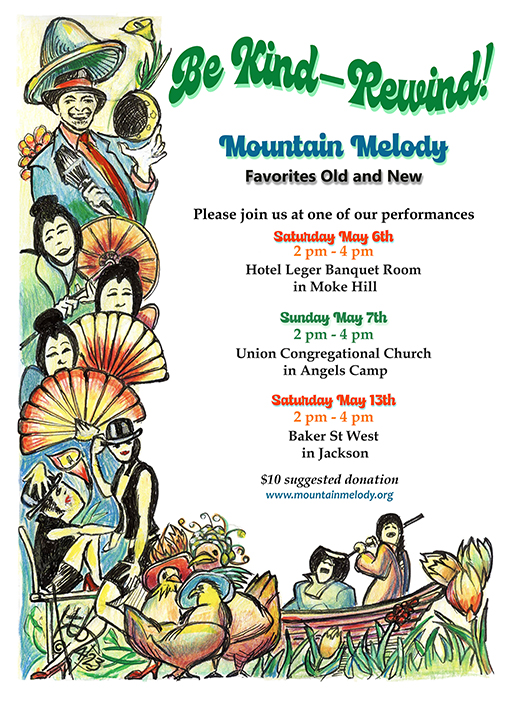 Concept and Marketing:
Tari Takara
Artwork: Kevin Brady
Mosquito Gulch Studio
209-419-1126
kevinbrady06@comcast.net
Sign Up For Our Mailing List