Chili Tuesday is happening January 22nd at the Moke Hill Town Hall!! Doors Open at 5:30 pm.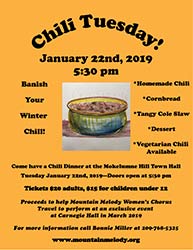 A delicious chili dinner will be served to warm up this January night, along with Cornbread, Tangy Cole Slaw, a Vegetarian Chili option, and Dessert. Wine and Soft Drinks will be available as well. There will also be some fine items offered for a silent auction as another way for you to give back and end up with something nice for yourself or a loved one. Tickets for the dinner are $20 for adults, $15 for children under 12. For more info, contact Bonnie Miller at 209-768-5325
Proceeds from the event go to benefit Mountain Melody Women's Chorus to help them get to New York City to perform at Carnegie Hall in March of 2019. Mountain Melody has been asked to join an exclusive international women's choir to perform at this legendary venue, and they are thrilled to be representing the California Gold Country Region. Mountain Melody has been invited by Distinguished Concerts International New York City (DCINY) to participate in this exciting event.
There will be 15 singers from the chorus making this trip, many who have been in the chorus since its inception in 2005, under the artistic direction of founder Julia Shelby.
Mountain Melody is looking forward to this event with great anticipation, and as always, we are so grateful for the support we have and will continue to receive.
---
"Mountain Melody received this invitation because of the high quality and high level of musicianship demonstrated by the singers as well as the high quality of their audition recording. It is quite an honor just to be invited to perform in New York.

These wonderful musicians not only represent a high quality of music and education, but they also become ambassadors for the entire community. This is an event of extreme pride for everybody and deserving of the community's recognition and support."

Dr. Jonathan Griffith, Artistic Director and Principal Conductor for DCINY
---
If you can't make it to Chili Tuesday, but would still like to help Mountain Melody, please go to the gofundme page.